The International Association for the Exchange of Students for Technical Experience (IAESTE)
2020 IAESTE Exchange Cycle
The International Association for the Exchange of Students for Technical Experience (IAESTE) is an international research and cultural exchange organization with partner agencies in 90 countries in the world.  One of the aims of the organization is to provide students in higher education who are undergraduates or fresh postgraduates with paid industrial and technical training experience in a university or a company abroad for a period of between 2 to 12 months.
Each year "work offers" (i.e. research/training positions) are exchanged with member-countries and co-operating institutions via an international exchange conference mainly on a reciprocal basis.  For the 2020 IAESTE exchange cycle, all prospective students (i.e. 400 level) must register before December 15, 2019, in order to benefit from the exchange process at the 73rd Annual Conference in January 2020.
The IAESTE Student Registration is meant to guide prospective students with necessary information about IAESTE application.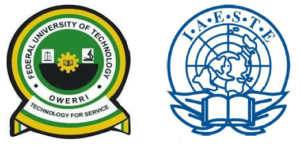 Benefits for FUTO
FUTO received an offer for a PhD Mathematics intern to be engaged for five (5) months at the Research Institute of Sciences & Engineering (RISE), University of Sharjah, United Arab Emirates.
Also received are additional 23 offers from different countries on, Computer and Information Science (9 offers), Engineering programmes (8 offers), Chemistry, Material Science and Chemical Engineering (3 offers), Agriculture and Food Science (1 offer) and Business, Management and Marketing (2 offers).
Availability of IAESTE Online Exchange Platform (www.iaeste.net) to recruit motivated and resourceful interns and researchers from abroad and be recruited by foreign participating institutions, companies and employers for paid technical training abroad.
73rd IAESTE Annual Conference
The 73rd IAESTE Annual Conference will be held in January 2020 in Tetranska Lamnica Slovakia.