FUTO Hosts the First International Conference on Mechatronics, Automation and Cyber-Physical Computer Systems
(By Dr Obinna Ofozoba)
In the month of June 2010, the National Universities Commission selected the Federal University of Technology, Owerri as one of the few Universities in the country to mount Mechatronics Engineering Programme with the mandate of implementing the pilot scheme and expert certification training centre in Mechatronics for the South-East geopolitical zone.
In keeping with the aforementioned mandate for its establishment, the Department of Mechatronics, FUTO in collaboration with the Institute of Electrical and Electronics Engineering (IEEE) organized the 1st International Conference on Mechatronics, Automation and Cyber-Physical Computer Systems at the FUTO Guest House on 7th and 8th March 2019.
Delivering her keynote address on "Boundless Opportunities of Smart Computing, Automation and Robotics in Nigeria", the Dean, School of Computing and Information Technology, Engr. Prof. (Mrs.) Gloria Chukwudebe stated that discoveries in microelectronics have caused a revolution in computing and telecommunication industries. She said that smart computing and automation gives profit in production and is currently replacing humans with robots
She stressed that Nigerians have no alternative to embracing digital revolution in smart computing, automation and robotics. These according to her, will enhance the overall development of the country and noted that this rare technology will be very beneficial in the Education, Health, Business, Justice, Transportation, Agricultural sectors of the country amongst others.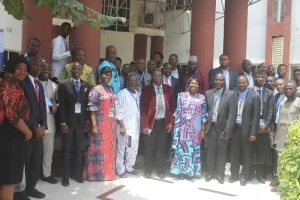 Engr. Prof. Chukwudebe urged the participants to pay special attention during the conference as it creates a platform for harvesting solutions to national growth in order to achieve sustainable development.
The keynote address was accompanied by a practical demonstration of the intricacies of mechatronics engineering by Mr Emmanuel Ayegba, who operated a self-fabricated computer numeric control router which is an indigenously-developed mechatronic prototyping machine for a manufacturing process. Mr Ayegba said the machine removes a manual way of manufacturing and introduces automation which results in mass production of systems and processes in a very limited time. This according he said is one of the latest inventions in mechatronics and can be adapted in manufacturing spare parts, metal works, woodworks, advertising and other areas.
Earlier, the Vice-Chancellor, Prof. Francis Chukwuemeka Eze, who spoke through the Deputy Vice-Chancellor, Research Development and Innovation, Prof. B.C. Anusionwu welcomed participants to the conference and said that FUTO is the premier University of Technology in Nigeria is also known for excellence, hence the mantra of the present administration, "Driving the Culture of Excellence". He disclosed that FUTO as a Centre of Excellence distinguished itself by getting the first position in the "Open Education Resource" (OER) ranking.
The Vice-Chancellor noted that over the years, his administration has significantly ensured robust academic and professional programmes through securing full accreditation status to already existing university programmes and establishment of new Schools and Departments to meet the emerging trend in technological advancement around the world. These technologies he said, will largely determine society's ability to exchange information and to develop holistically. He urged the participants to see the conference as an opportunity to brainstorm on scientific and technological means of solving societal problems especially as it relates to the use of smart computing, robotics and automation.
The maiden international conference of Mechatronics also had in attendance, Dean of SEET, Engr. Prof. G.I. Nwandikom, Dean of SCIT Engr. Prof. (Mrs.) Gloria Chukwudebe, HoD of Mechatronics, Engr. Prof. F.I. Izuegbunam, Engr. Dr Kennedy Okafor and other members of the Conference Planning Committee including members of IEEE.