'The Time for Women to Support One Another is Now' – VC at the 2019 International Women's Day Celebration
(By Izuegbu Oluchi Sylvia)
The Federal University of Technology Owerri, on Tuesday, March 19 2019, joined the world to celebrate the International Women's Day at the Hall of Excellence FUTO. The annual event celebrates women's achievements from the political to the social while drawing attention to women's vulnerability and disenfranchisement. This year's commemoration was hosted by the Institute of Women, Gender and Development Studies (IWoGDS) in collaboration with the Federal University of Technology Owerri Women Association (FUTOWA) and Women Associations in FUTO.
Addressing the gathering, the Vice-Chancellor Prof. Francis Chukwuemeka Eze said that the celebration which is organized annually with different themes reflecting global and local issues bordering on gender inequality, discrimination and violence against women, which harm all and sundry as no country can flourish if it stifles the potential of its women and deprives itself of the contribution of half of its citizens. Prof. Eze reiterated 'the commitment of the management to providing a level playing ground for both male and female students and staff to operate on and promised to continue to appoint women into senior management positions in the university adding that his administration has zero-tolerance for sexual harassment. Therefore, he urged the women to come up with innovative ways of tackling nagging gender issues and challenges and told them that the time to support one another is now'.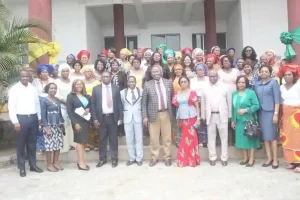 In her welcome address, the Director of IWoGDS, Prof. Mrs Gloria N. Okwu said the theme of 2019 celebration is 'Think equal, Build Smart, Innovate for Change' with the campaign theme as 'Balance For Better'. According to Prof. Okwu, women are saying 'it is time for adequate representations in the boardrooms, the political space, academia and others, as well as seeking an end to violence against women'. She stated that the theme also focuses on innovative ways in which women can advance equality and called on the women to step up their game, embrace modern technology and tackle the challenges limiting them, especially in the areas of access to public services and sustainable infrastructure.
The President of FUTOWA and Managing Director FUTO Farms Limited Dr. (Mrs) Egejuru Eze said the global celebration affords women the opportunity to reflect on issues concerning them. Women are indispensable in the society and as such deserve respect, honour, support and encouragement she pointed out and urged them to desist from actions that are capable of demeaning womanhood but rather continue to maintain highest standards of behaviour as well as learn to love and support one another. She affirmed that the future of the women is in their hands, encouraging them to vie for elective positions.
Delivering a lecture on 'X-raying Factors Impeding Women Improvement in Nigeria Beyond the Laws' Barr. Dr Chizoba Okpara, a Senior Lecturer in the Faculty of Law, Abia State University Uturu, said when women are empowered educationally, economically and politically, there would be a great reduction in dependency rate, increased household income and purchasing power, improved standard of living, boost in tax revenue to Government as well as the general impact on Gross Domestic Income. Dr Okpara regretted that women empowerment falls below expectation in Nigeria with various impediments like male-dominated supremacy, stigmatization and obnoxious laws like section 353 and 360 of the criminal code, which defines assault on a man as felony liable to three years imprisonment but same crime on a woman is regarded as misdemeanour liable to only two years imprisonment.
She disclosed that Nigeria's penal code section 353 legalizes marital rape and the police regulation act, sections 121 to 126 states that married women cannot enlist in the police while an enlisted single woman must spend two years before she can apply for permission to marry. Against this background, the lecturer proposed a review of all discriminatory laws, effective economic empowerment policies, political appointments and establishment of monitoring agencies as recommendations to government.
In conclusion, she called on the younger women to de-emphasize false eyelashes and the latest fashion in town, look beyond diapers and baby formula and while waiting for the government to review and implement available laws and policies, urged them to begin an attitudinal change, thinking right about themselves and acquire the 'I Can' attitude. These recommendations will create not only the future they want but that of their daughters unborn, she noted.
There was an interactive section amongst the various women groups and guests. President of FUTOWA, Dr.(Mrs) Egejuru Eze later distributed an improved variety of palm seedlings to the women from the host communities.